Por fin un corredor! Llegué a Barcelona con ganas de altitud, de subir por algún corredor a una cima y desde allí disfrutar de las vistas, de la contradicción entre la sensación de dominio sobre los valles debajo de ti y a la vez sentirme pequeño ante tanta majestuosidad.
Y para eso no hace falta hacer un super pico, con el Bony d'Envalira (2645m) en Andorra es suficiente 🙂
En NY el relieve es prácticamente llano, y la verdad es que es una de las cosas que más echo de menos allí.
Finally a couloir!! I came to Barcelona eager for altitude, to climb a summit through a couloir and to enjoy the views from there. To enjoy the contradiction between feeling that I master the valleys above my feet and feeling very little compared to such a majesty.
And for this feelings there is no need to climb a super summit, it is enough with the Bony d'Envalira (8678ft) in Andorra (Pyrenees) 🙂
In NY relief is practically flat, and the truth is that this is one of the things that I am really missing there.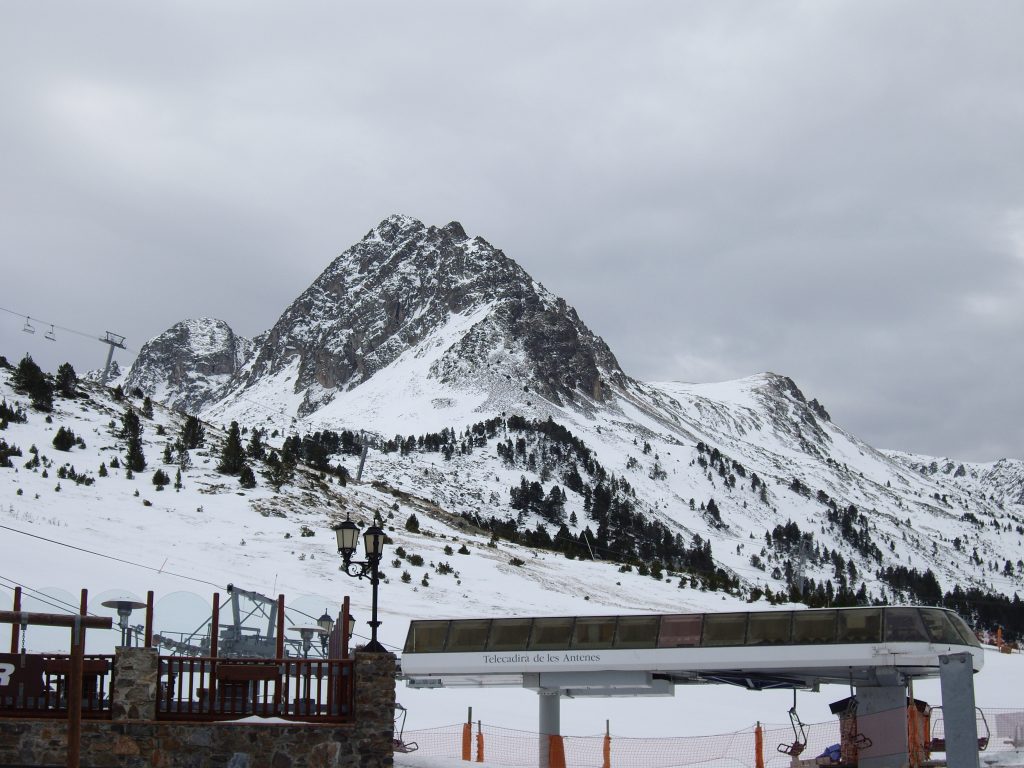 Bony d'Envalira visto desde Grau Roig – Bony Envalira view from Grau Roig resort
Salimos de la estación de esquí de Grau Roig un grupo bastante numeroso entre parados, ociosos y gente de vacaciones: Albert, Amadeu, Xavier, Patricia, Oriol, Laura y yo.
El objetivo aún no está decidido a estas alturas, pues hay varios picos y corredores factibles en la zona. Hace pocos días a uno del grupo le pilló un alud de placa que lo arrastró cien metros abajo, sin consecuencias, pero vamos especialmente sensibles con el tema. Subimos por pistas y una vez nos salimos de allí nos decidimos por el corredor Norte del Bony d'Envalira. Es el que tiene mejor pinta visto lo que escasea la nieve. Aquí la reseña.
We head on from Grau Roig resort. A large group of unemployed, idles and people on vacation: Albert, Amadeu, Xavier, Patricia, Oriol, Laura and myself.
Our objective is not yet decided at this point as there are several summits and couloirs feasible in the area. Few days ago one of the members got caught by an avalanche and fell 300ft down, without any consequences, so the team is very sensitive about this issue today.
We walk up through the resort slopes and once out of them we decide for North couloir of Bony d'Envalira. It is the couloir with better aspect given the small amount of snow in the area. here the topo.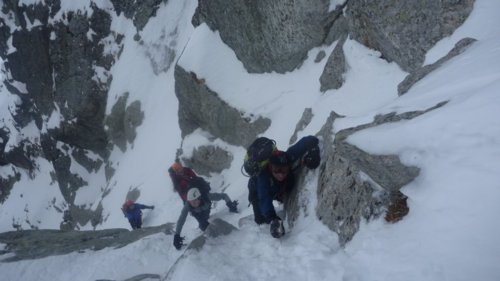 Atacando el primer resalte – Dealing with the first rock section
Nos encontramos un par de resaltes en roca pues está todavía bastante seco, y de la salida del corredor subimos hasta la cima flanqueando por la cara sur. En la cima nos hacemos las fotos de rigor, que no falten!
We find a couple of rock sections in the couloir, as it is still rather dry. From the couloir exit we climb to the summit in a traverse over the South face. And once on the summit group photos, of course!!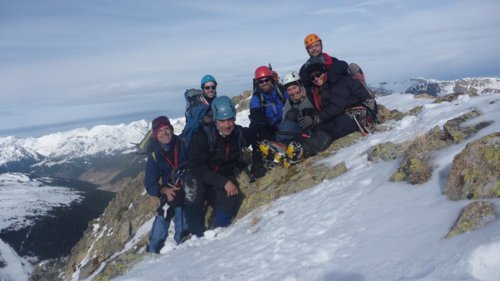 El grupo en la cima – Group on the summit
Qué sensación, panorama estupendo ante mis pies. Veo gente bajando por el valle con esquís y me entra envidia. Lo quiero todo!!!!
What a feeling, great panorama under my feet. I see people skiing down through the valley and I feel envy. I want everything!!!!

Panorama desde cima (vista Sur) – Summit panorama (South view)
Bajamos del pico flanqueando por la cara sur. Y una vez en el valle la vuelta se hace francamente dura por la nieve blanda acumulada que nos hace hundirnos constantemente. No hemos cogido raquetas…
Una jornada alpina estupenda, con buenos compañeros y que disfruto como nadie, pensando que quizás sea mi primer y último corredor de este invierno lo cual me hace saborearlo aún más 🙂
We go down the summit traversing over South face. And once in the valley the return gets really hard. There is a lot of soft snow accumulated that makes as bury our legs constantly. Unfortunately we did not pick snowshoes.
A great alpine day, with good friends, that enjoy as no one else, while I think it is maybe my first and last couloir of this winter. And this makes me enjoy it the most 🙂